Deputy Manager Talent Acquisition
Description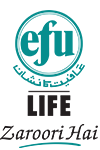 Deputy Manager Talent Acquisition required EFU Life Assurance Ltd.
The Deputy Manager Talent Acquisition will be responsible for developing and managing the talent acquisition strategies and processes of the organization.
Qualification:
MHRM/ MBA/ MPA in Human Resource.
Experience
5 - 6 years of experience in core Talent Acquisition.
Key responsibilities will include:
• Work closely with the Heads of Departments of the organization to understand their talent needs and suggest an end to end recruitment plan.
• Understand the available Talent Pool and the job market and identify the key motivators for attracting the right talent.
• Identify sourcing strategies based upon the position description by using multiple channels and resources.
• Manage the end to end recruitment process till the hiring and joining of the candidate.
• Analyze the recruitment progress and identify bottlenecks to the process.
• Participate in career fairs of various universities.
• Manage the employee referral program of the company.
• Manage the turnaround time for hiring.
Skills:
• Should have strong knowledge of sourcing tools and the social
media platforms.
• Knowledge of Applicant Tracking Systems will be a plus.
• Excellent communication and presentation skills.
Location: DHA Phase-I, Karachi
Interested candidates can send their updated resume